Powerful Red Dress exhibit on display at City Hall, all library branches
National Day of Awareness and Honouring of Missing and Murdered Indigenous Women and Girls and Two-Spirited Peoples is October 4
October 4, 2021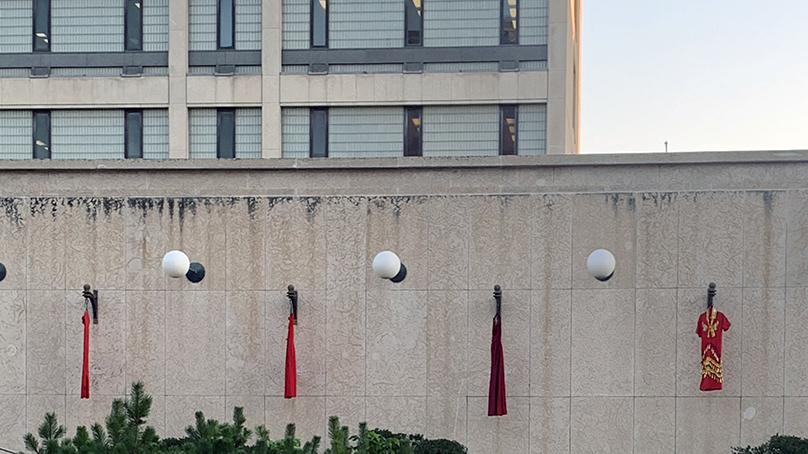 A red dress hanging is a powerful symbol that honours Indigenous Women and Girls and Two-Spirited Peoples who never made it home or have been harmed by violence against them. The Red Dress exhibit by artist Jaime Black was created in 2010, and since then people around the world have been moved to hang red dresses.
Inspired by the exhibit, red dresses are hanging around City Hall and the courtyard on October 4 to mark Missing and Murdered Indigenous Women and Girls and Two-Spirited People (MMIWG2S+) Honouring and Awareness Day. A ceremony with a prayer and honour song, as well as the lighting of a sacred fire, was held earlier in the day.
While the display is only for the day at City Hall, dresses have also been hung at all 20 Winnipeg Public Library Branches and will remain up through at least the end of October. Awareness information on MMIWG2S+ will be posted with the red dresses and online.
"Dresses that are hung emit powerful emotions, as City staff and non-Indigenous patrons are beginning to understand what they truly represent," said Jessica Paley, the MMIWG2s+ Project Lead, with the Indigenous Relations Division.  "On the heels of the first National Day for Truth and Reconciliation, we are seeing and hearing growing dialogues, curiosities, and requests for resources. With that in mind, we know visitors might have questions about the dresses and what the displays represent, so awareness training and resources will be provided to staff about Missing and Murdered Indigenous Women and Girls and Two-Spirited Peoples to help them provide additional information."
We are encouraging residents to take action on the 231 Calls for Justice from the Reclaiming Power and Place: The Final Report of the National Inquiry into Missing and Murdered Indigenous Women and Girls, and to also hang red dresses on October 4 each year.
In all, 73 dresses were donated by our employees and Paley said they were blessed prior to being displayed. This was done to cleanse them, so that when they were hung, it was done so in a good way.