Welcoming Winnipeg earns national Indigenous Engagement award
Award presented by the International Association for Public Participation Canada
October 5, 2020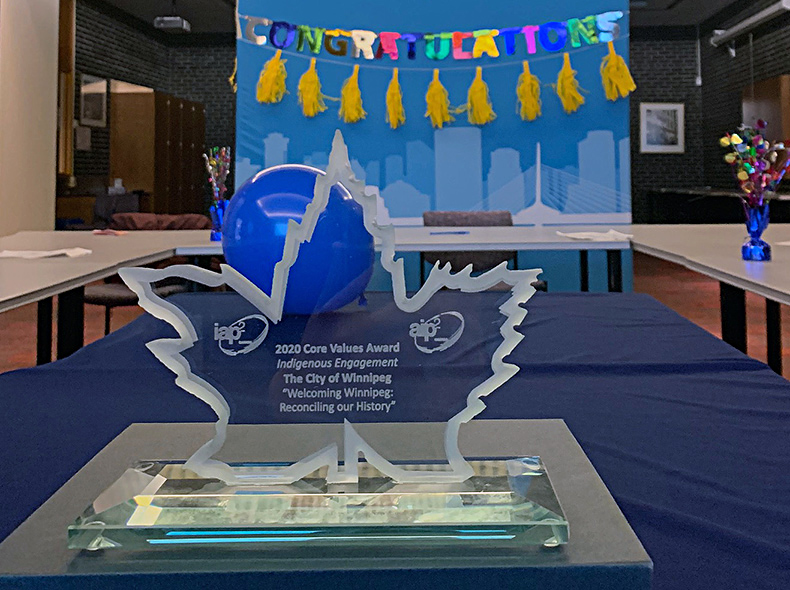 Through examining existing monuments, signage, and street names, Welcoming Winnipeg: Reconciling our History aims to provide a more balanced representation of Winnipeg's history. In addition to making an impact in Winnipeg, the initiative has recently received a national award.
We received the Indigenous Engagement Core Values Award from the International Association for Public Participation (IAP2) Canada during a virtual award ceremony on September 30.
"We are honoured to be recognized for our work on such an important part of our Journey of Reconciliation," said Morgan Vespa, Manager of Public Engagement.
The IAP2 Canada Core Values Awards recognize the highest achievements in the field of Public Participation. Award judges noted the public engagement process for Welcoming Winnipeg recognized "the role of both the Indigenous and non-Indigenous communities and the potential polarizing nature of the conversation. It sought to engage with a wide-range of Winnipeggers and Indigenous communities and groups."
More than 1,100 residents actively took part in the Welcoming Winnipeg public engagement process during 2019 and many others were informed. Through two phases, the process included a panel event, discussion, workshop, an option for residents to submit their own stories, stakeholder sessions, and online opportunities to submit feedback.
Following the engagement phase, the Welcoming Winnipeg: Reconciling our History Policy was developed and adopted by City Council. From that, the Welcoming Winnipeg Committee of Community Members was formed and announced in September 2020.