What to do if you have frozen water pipes
Property owners should take steps to prevent internal pipes from freezing
December 13, 2019
With extreme cold, there is the risk of unprotected water pipes freezing in Winnipeg. A few simple steps can help reduce the risk you could experience this.
Property owners are urged to make sure water pipes are insulated, this includes pipes in garages and crawlspaces. Keep cabinet doors open to allow heat to get to the pipes if they aren't insulated. It is recommended to set the temperature where pipes are to at least 12°C.
"Every year the City receives reports of frozen water pipes," said Zeljko Bodiroga, Water Distribution Engineer with the Water & Waste Department.
Property owners are responsible for thawing internal plumbing as well as the portion of the water pipe on their property, from the house to the shut-off valve.
"If the City's portion of the underground water pipe is frozen, City crews will thaw it at no cost to you," said Bodiroga.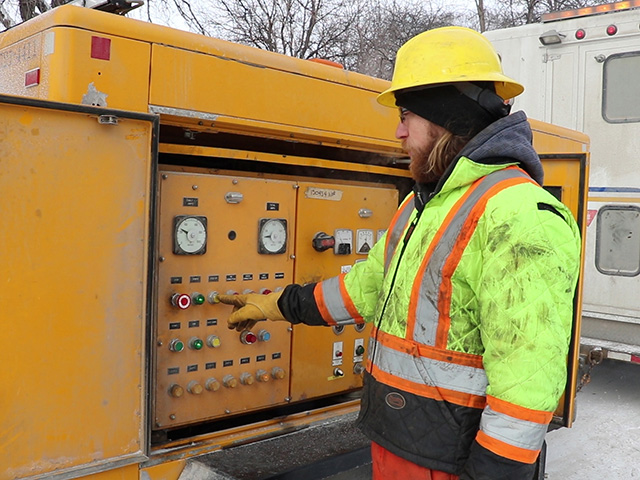 City of Winnipeg crews will use electrical current to thaw pipes that have frozen on the City side.

Crews will use a DBH machine, which uses electrical current, to thaw City pipes.

While it is an inconvenience to not have water, make sure to be safe when attempting to thaw the internal pipes.

If you can find where the pipe has frozen, you can wrap warm, not hot or boiling, towels around it. You want to make sure to apply slow, even heat. A licensed plumber can also help.

Do not run your water as a preventative measure unless you've been notified by the City. Otherwise, you would be billed for the full amount of the water and sewer charges.

Originally posted on February 15, 2019