Southwest Transitway earns accolades
It was recently named the Project of the Year by PMI Manitoba
May 12, 2021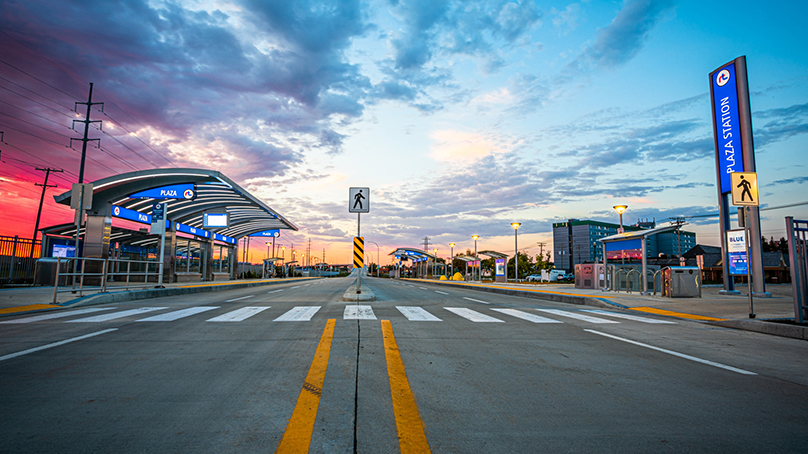 A major transit infrastructure project completed on time and under budget in 2019 continues to earn accolades.
The Southwest Rapid Transitway (Stage 2) and Pembina Highway Underpass project – which included construction of 7.6 kilometres of transitway, nine related structures, and active transportation paths – has been named Project of the Year by the Project Management Institute Manitoba Chapter (PMI Manitoba).
The project also included the widening of the Pembina Highway Underpass to three lanes in both directions, and the installation of a series of public art projects along the length of the corridor.
The City of Winnipeg and Dillon Consulting, the owner advocate on the project, extended Stage 1 of the Southwest Transitway from Pembina and Jubilee to the University of Manitoba. Buses are able to travel at up to 80 km/h on the dedicated corridor. 
Jesse Crowder, Project Manager with Winnipeg Transit, said the goal of the project was to inspire more Winnipeggers to leave their cars at home and take transit instead, contributing to the creation of a more sustainable Winnipeg. Short-term objectives included increased ridership, reduced on-street traffic congestion, and a more reliable service.  
To help reach those goals, and to ensure the project best met the needs of those impacted, the project team carried out extensive engagement with members of the public and more than 300 internal and external stakeholders.
The PMI Manitoba honour isn't the first for the project.
Previously, it received an Award of Excellence from the Association of Consulting Engineering Companies of Manitoba for the design work on Stadium Station at IG Field, one of the structures completed as part of the Southwest Rapid Transitway (Stage 2) and Pembina Highway Underpass project.