The path to a full zero-emission transit fleet in Winnipeg
July 8, 2021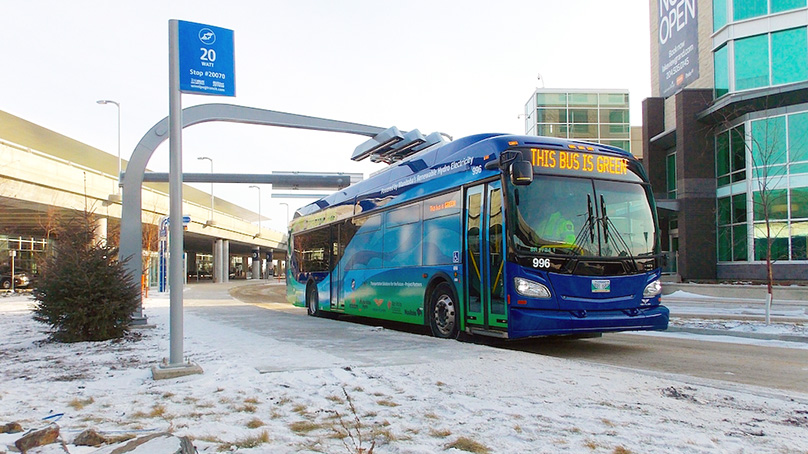 Winnipeg Transit is poised to retake its position as a North American leader in the adoption of zero-emission bus technology.
Transit first operated zero-emission buses from 2014-2018, during a demonstration that provided key insights into the manufacture, operation, and maintenance of short-range fast-charge battery-electric buses. The City of Winnipeg partnered with bus manufacturer New Flyer for the demonstration, which saw the buses operate on Route 20 Academy-Watt, charging along the route at a station installed at the Winnipeg Richardson International Airport.
The new plan centres on a step-by-step proposal to transition the entire Winnipeg Transit fleet to zero-emission, starting with the purchase of 16 buses that will be a mix of two technologies that differ from the battery electric buses Transit operated previously, both capable of long-range operation that won't require street-side charging.
"We're looking at purchasing eight long-range battery electric buses and eight fuel-cell battery electric buses," explains Erin Cooke, Project Manager for Winnipeg Transit's Bus Electrification Program.
If the first 16 buses—known as the test fleet—hit the road in 2022 to 2023 as planned, it would mark two firsts for transit providers in Canada: the first 60-foot zero-emission buses and the first fuel-cell battery electric buses in regular service.
Cooke said the test fleet should be a mix to help make sure the transition doesn't hit any snags.
"I think some people think it's as easy as buying new buses, but Winnipeg Transit is a complex operation, and everything in that operation is currently designed for diesel," said Cooke.
Long-range battery-electric buses, or BEBs, will need new charging infrastructure to be installed. Fuel-cell battery-electric buses, or FC-BEBs, are fueled with hydrogen, which will also require new infrastructure.
"Fortunately, we can generate that hydrogen using energy from electricity in Manitoba, which is one of the cleanest sources out there," said Cooke, noting each new zero-emission bus added to the fleet will eliminate nearly 62 tonnes of greenhouse gas tailpipe emission annually.
The plan calls for operating the test fleet for 12-18 months, then starting to replace end-of-life diesel buses with zero-emission buses on an annual basis. Because of electrical grid limitations at Transit facilities in South Osborne, to keep the transition going, a new garage designed specifically for zero-emission buses will need to be built to replace Transit's North Garage before 2027, when the zero-emission fleet will account for more than 20 percent of Transit 600+ buses.
"If we're able to get the garage built by then, we can stop buying diesel buses entirely at that time, ensuring we retire the last ones no later than 2045," said Cooke.
The North Garage Replacement and the Transition to Zero-Emission Buses were among a number of exciting projects for Winnipeg Transit that will be included in an application to the Investing in Canada Infrastructure Program, which Council approved at its regular meeting on April 29, 2021. The projects relate to the new Winnipeg Transit Master Plan, endorsed by Council at the same meeting.