City launches new homepage and 311 website
October 20, 2020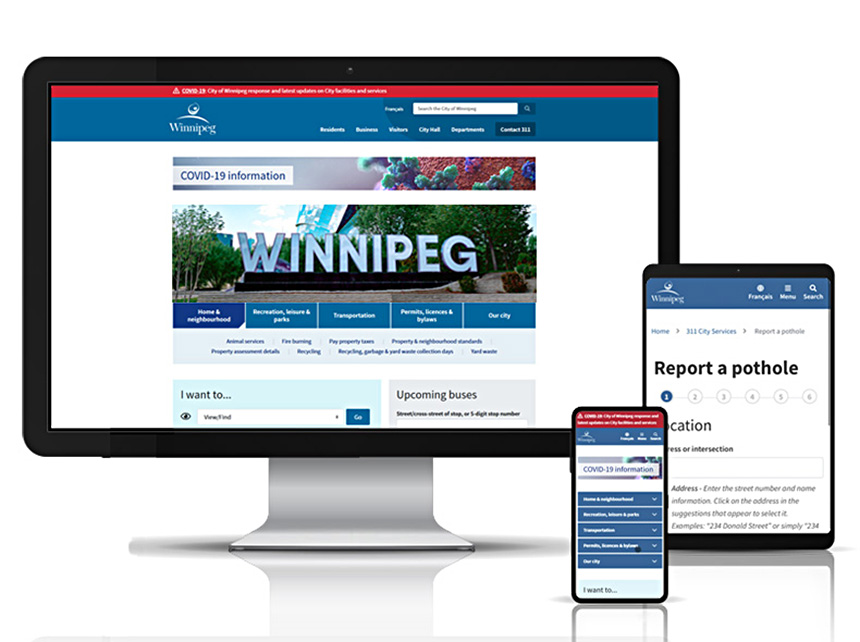 Visitors to winnipeg.ca will notice some big changes starting today, as we've rolled out a brand new homepage and 311 self-service website.
Both pages have been redesigned to offer a better user experience, with a focus on delivering the information and services residents need most.
"This has been a data-driven process throughout," said Ashley Sokal, the City's Manager of Web & Social Media.
That process led to new functions being added to the homepage, including the ability to find upcoming bus schedules, as well as submit and track 311 service requests. Both pages are mobile friendly, and were designed to meet current accessibility standards.
The new 311 self-service website includes 14 bilingual service request forms, such as reporting a pothole or lost property on Winnipeg Transit, as well as seasonal requests like snow removal. The new website replaces the 311 mobile app, which is no longer available.
"The mobile app functioned differently than the former website, which could lead to frustration for users," said Travis Herntier, the City's Coordinator of Application Services.
Confluence, our custom design system, served as the roadmap for the updates. The system's principles include using a clean, user-focused design with modular components.
"The system is very flexible, which will allow us to quickly adapt to user needs as we start to introduce the new design to more pages," said Sokal.