Gakina Gidinawemaaganidim (We Are All Related) mural installed at City Hall
Art piece commissioned as part of our long term commitment to human rights and anti-racism
December 7, 2021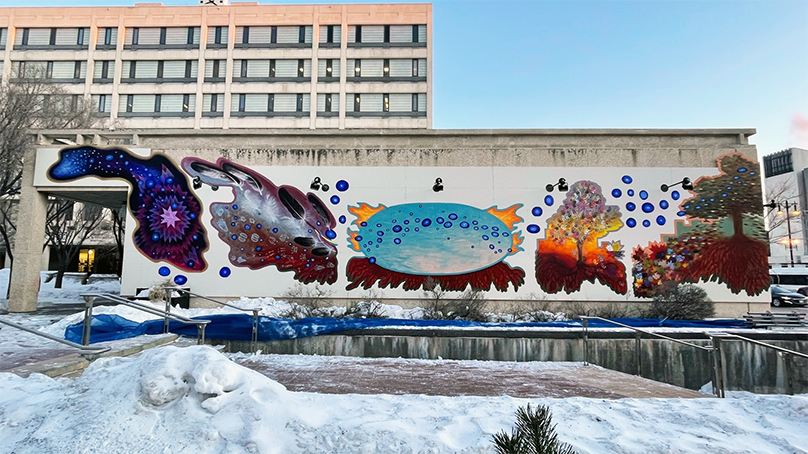 A powerful mural depicting our interconnectedness is now greeting visitors to City Hall.
The piece was gifted a traditional Anishinaabemowin name Gakina Gidinawemaaganidim (We Are All Related) by Marcel McKay and translated by Elder Roger Roulette.
"We truly are all related upon Mother Earth and we are all connected," said Jeannie White Bird, traditional helper and emerging artist from Rolling River First Nation who created the piece.
Commissioned by the City as part of our long term commitment plan to equity, diversity, inclusion, and anti-racism, the piece is roughly 20 meters long and four meters tall and hangs on the southeast side of the Susan A. Thompson Building. It was installed on December 6, 2021, ahead of Human Rights Day held annually on December 10.  Using weatherproof materials, the piece was painted in five panels so it can be installed as one piece or separately.
"This mural is speaking to the spiritual component of diversity and inclusion," said White Bird. "Mother Earth doesn't discriminate and if we just look to Mother Earth as the example, we can be fully inclusive."
Gakina Gidinawemaaganidim (We Are All Related) features a maple tree with its blowing leaves morphing into orbs encased by colourful spiritual energies. It is a lively and harmonious flow of interconnected physical, emotional, and spiritual energies depicting far-reaching inclusion and belonging. The emotional and spiritual aspects conveyed are that no one is alone as we are all connected. The physical aspects are displayed through the far-reaching roots of the maple tree extending and embracing all people across Canada. A celestial star element reminds us of our humble existence upon our home, Mother Earth. The mural also features the handprints of Manitobans from all walks of life.
White Bird was assisted by Ellen Hart and collaborated with celebrated muralist Charlie Johnston, from C5 artworks, to create the piece.
"I am hoping it will cause people to think differently and to be compelled to consider the spirit of unity and what the world would be like if we really did treat everyone as equals," said Johnson.
It's a sentiment White Bird shares.
"We want to live in a diverse city and we want our communities, neighbourhoords, families, and ourselves to be inclusive," said White Bird. "The work has to be done on all those levels, not just with government."
Our long term commitment to anti-racism, anti-oppression, and cultural competency started with Anti-Racism Week in March 2021.
"We know that racism exists in the city as well as within our organization and the negative impact of racism cannot be eradicated if we do not acknowledge it exists," said Michael Jack, the Chief Administrative Officer.
Earlier this year, Council had approved the Equity, Diversity and Inclusion Policy and Strategy. This is in addition to the Newcomer Welcome and Inclusion Policy and Strategic Framework, which was adopted by Council in 2020. Work is also underway to complete the creation of the Equity Office, which anchors the City's commitment to promoting human rights, accessibility, equity, diversity and inclusion, anti-racism, anti-oppression, and cultural competency within the organization.
"It's through a more diverse and inclusive workforce that new ideas, solutions, and experiences will grow and that will benefit all Winnipeg residents," said Jack.
It is expected Gakina Gidinawemaaganidim (We Are All Related) will be displayed at City Hall for the next several months before being displayed at other City facilities.