Water main flushing program helps preserve water quality
Residents will be notified before crews are on their street
May 14, 2019
It's using water to help keep water clear. The City's annual water main flushing program kicks off in May.
"Water is forced through the water mains and out of hydrants at a high speed which scours and flushes the mains," said Zeljko Bodiroga, Water Distribution Engineer with the Water & Waste Department.
The hydrant is turned off once water samples come back clear. The whole process takes between 30 to 60 minutes and doesn't involve turning the water service off to your home.
Crews are scheduled to work every day the summer to flush the water mains that run under the streets carrying water from the pumping stations to homes. There are more than 2,600 kilometres of water mains under Winnipeg streets.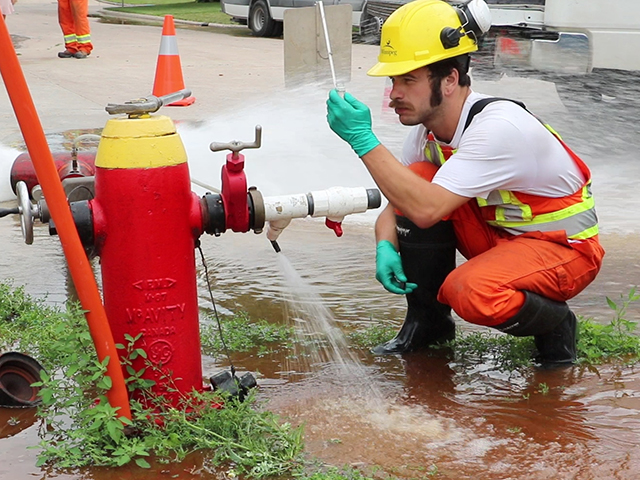 Crews take samples to test the water during the process.
"Crews also use this as an opportunity to test the water system valves and hydrants to ensure everything is working properly," said Bodiroga.
Residents will receive a notice up to four days in advance to let them know crews will be on their street to flush water mains. You can also check the City's website to see where the work is scheduled to be done.
Typically flushing happens without discoloured water occurring. In the rare event this happens, please follow these steps:
Stop using your water in order to prevent sediment from entering the pipes in your home.
Wait a few minutes.
Turn on the cold water tap and let the water run for a few minutes.
Then, collect some water in a light-coloured cup or container. If water is clear, you can use your water.
If it is not clear, wait 30 minutes, check the water again. If your water is still discoloured after two to three hours, contact 311.
Please do not use any hot water or filtered taps before you are sure your water is clear.