Enjoy reading a story outdoors on a StoryWalk®
A fun, physically distanced, literacy activity for the family
July 9, 2021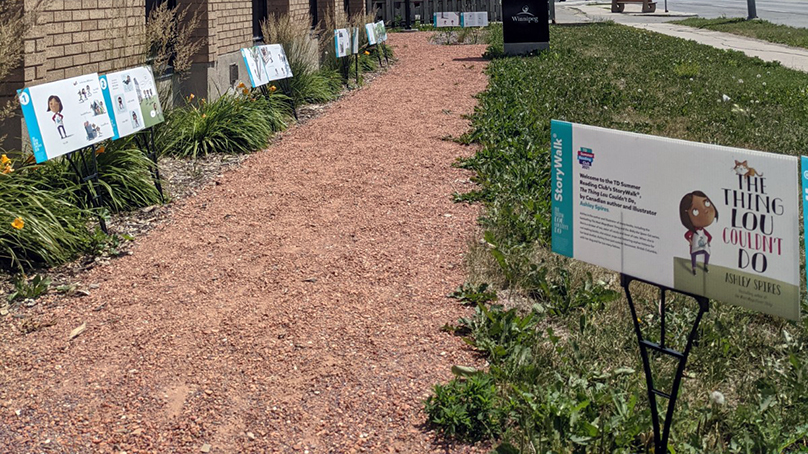 As we patiently wait for Libraries to reopen for browsing, we have to get creative in ways to share library fun this summer.
As part of the TD Summer Reading Club, the Winnipeg Public Library is now offering a StoryWalk® program. A StoryWalk® is a fun, physically distanced activity that puts a children's book, page by page, on panels in library branch windows, or along sidewalks or paths close to the library.
Families can enjoy reading a story outdoors as they stroll along from one page to the next. It is a great activity to try to guess what happens next in the story before you reach the next page.
"This is an excellent way for families to enjoy reading a book together while taking a stroll in their community," said Karin Borland, Administrative Coordinator of Youth Service.
The StoryWalk® book is the same at all the above locations. It is "The Thing Lou Couldn't Do", by Ashley Spires. Lou has never climbed a tree before, and she's sure she can't do it. She tries to convince her friends to play a not-up-a-tree game. Lou's friends model compassionate friendship by offering to teach her how to climb. It's a story about courage, resilience, facing challenges and, ultimately, the joy of imaginative play in the outdoors.
Bilingual text can be found at Transcona and St. Vital Libraries. The hardcopy of the book is in our collection in both English and French.
Please remember to keep two metres from others, wait your turn, and try not to touch the panels.
The StoryWalk® walk program will run at various library branches until September 3 during library opening hours, weather permitting. Check winnipeg.ca/library for updates about future locations.
The TD Summer Reading Club runs until August 31. You can contact any library branch to arrange contactless pick up of a free bilingual reading kit. Kit includes an activity notebook (for pre-reader or school-age child), recommended book titles, reading log calendar, and stickers.