Winnipeg continues to proudly be designated a Fair Trade Town
Coffee, tea, and sugar are a few items the City aims to sustainably source
February 7, 2020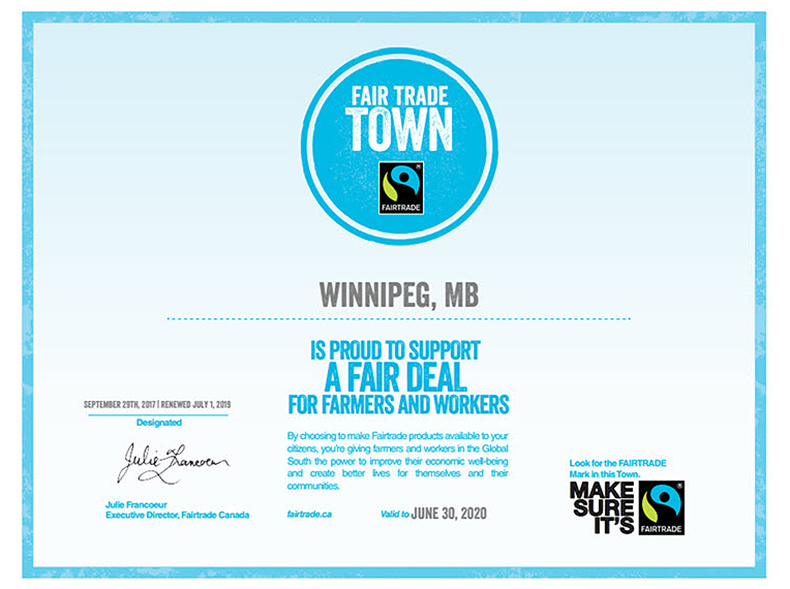 From coffee and tea to the sugar that might go in it, the City aims to only serve Fairtrade certified beverages at municipally-owned and operated venues.
This is one part of the City's commitment as a designated Fair Trade Town.
"With support of City Council, Winnipeg joined more than 2,000 other municipalities around the world as a Fair Trade Town in 2017," said Lindsay Mierau, the City of Winnipeg's Manager of the Office of Sustainability.
Mierau said the fair trade movement is about supporting greater equity in international trade as well as better trading conditions for marginalized producers and workers in the global south. Fair trade also advocates for better product pricing, decent working conditions, local sustainability and advocates against the use of forced and child labour.
The City is also a member of the Fair Trade Winnipeg Steering Committee. To create more awareness around fair trade, the committee will be giving away Fairtrade certified hot chocolate at Kildonan Park on Louis Riel Day.
Free hot chocolate will be handed out to people enjoying the Park's ice skating pond from 1 - 4 p.m. The committee will be set up at the lower level of the pavilion.