Lack of snow delays some free winter activities around Winnipeg
December 19, 2019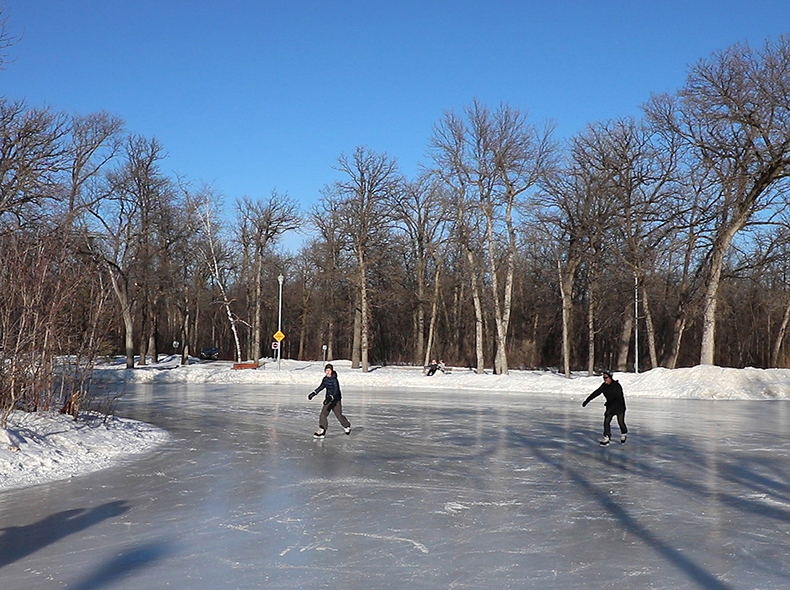 Cooler temperatures have arrived however more snow will be needed for some of the free winter activities in many City of Winnipeg parks.
Skating
If you are looking to hit the ice, there are dozens of outdoor, City-operated skating rinks around Winnipeg. Many of these pleasure rinks are ready to use and will be available through the holiday break, weather dependent.
You can also lace up your skates at Harbourview Recreation Complex and the St. Vital Duck Pond. The pond in Kildonan Park is still closed.
Before heading out, make sure to check the City's website to ensure the sites are currently open. Organized hockey is not allowed on ponds or pleasure rinks.
Tobogganing
The unseasonal lack of snowfall has delayed the opening of our toboggan slides.
We hope to have them operational soon, but that depends completely on Mother Nature's cooperation.
The four toboggan hills operated by the City are open, but conditions are weather dependent.
As of December 23, the toboggan slides in St. Vital Park, Bunn's Creek Park, Fraser's Grove Park, and Crescent Drive Park are open. The four toboggan hills operated by the City are open, but conditions are weather dependent so make sure to check the status on the City's website.
Cross country skiing
The City's cross country ski trails are also not yet operational due to lesser-than-normal snowfall.
Once weather conditions permit, the City will groom the trails in Crescent Drive Park, La Barriere Park, Harbourview Park, Kildonan Park, and St. Vital Park, and at the Living Prairie Museum. Ski rentals will be available at Harbourview Park once the season opens.
Snowshoe Sundays
The first Snowshoe Sunday of the season at the Living Prairie Museum is tentatively scheduled for January 12 from 10 a.m. to 4 p.m., snowfall dependent.
Snowshoes are lent out for free on a first come first served basis. No experience is required; you just need to make sure to bring your winter boots.
Check the museum website for updated snowshoeing dates.
Park trails
Feel the snow crunch under your feet while you enjoy a walk in the winter. The City has many trails and pathways for you to explore and take in some fresh air.