Local artist donates mural to Animal Services
Artwork one of many pieces used to brighten up the space
September 3, 2019
Local artist Emily Marcial has designed and painted a new mural for the Animal Services lobby.
Visitors to the City's Animal Services Agency will notice a new mural decorating the walls of the main lobby.
It was designed by Emily Marcial, a local artist, who donated more than a week of her time to paint it. She ended up taking on the project after seeing a post on social media. 
"I saw Animal Services was looking for donations for specific things and art was one of them," she said.
Marcial painted a smaller piece which now hangs in a wellness room and was then asked about doing the mural.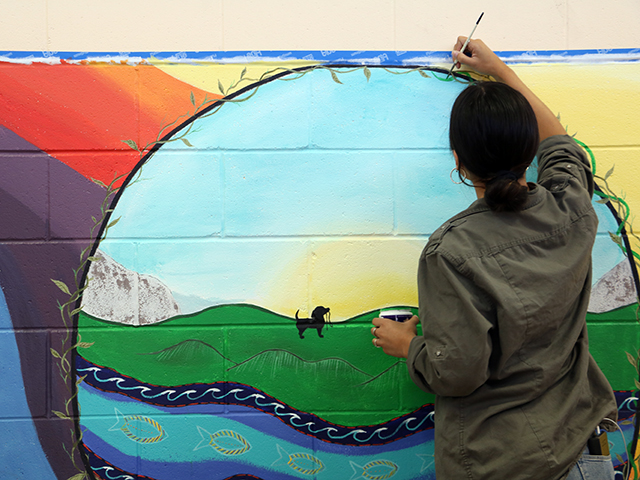 It took Emily Marcial just over a week to finish the mural.

"I had never done a mural before and to think it will be around for a long time is really wild," she said.
The colourful piece incorporates elements from nature and features several animals including dogs, cats, rabbits, and a coyote.
Marcial wants the mural to convey the message people need to care and nurture the world in hopes of making it a better place for everyone.
"I wanted it to show we are all sharing this space," she said
This is the third mural donated to Animal Services in recent years. The artist of each one donated their time and Animal Services provided the paint.
"One of the ways we make the space a more positive environment for employees and volunteers is by adding art to the facility," said Leland Gordon, Animal Services' Chief Operating Officer.
Gordon said the facility's walls are filling up, and while he isn't looking for another mural artist at this time, there are other ways people can help support Animal Services.
"People can volunteer their time here and we have a flexible program to allow them to do that," he said. "We also have a wish list on our website that describes all the different donation opportunities someone can make."