Hundreds of bikes available at annual auction
April 23, 2019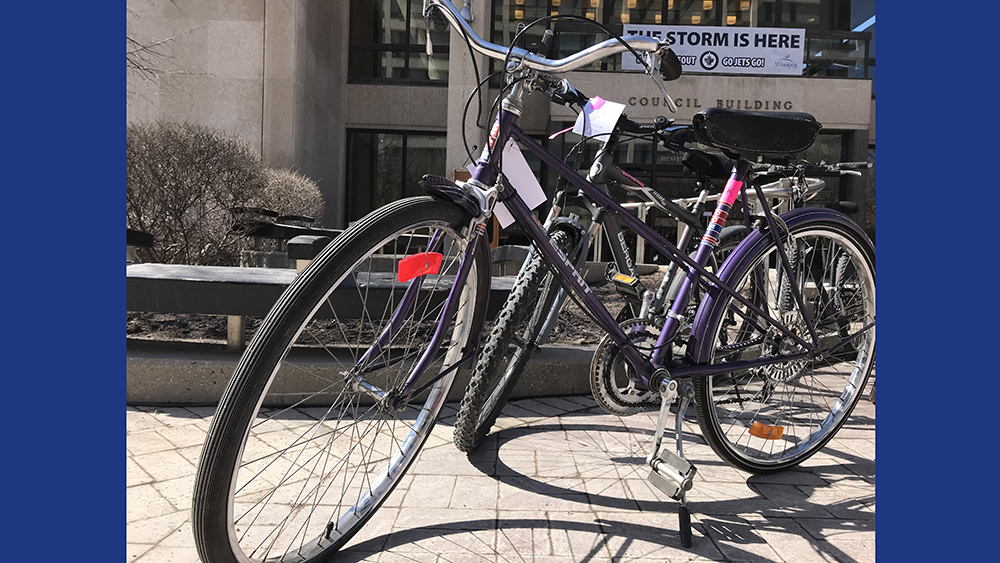 If you are looking to get a new bicycle this spring, consider stopping by the City of Winnipeg's annual bike auction. It is a chance to find a bike and support community bicycle programming at the same time.
Approximately 700 unclaimed bicycles will be available for purchase at the annual auction being held at Terry Sawchuk Arena.
April 27, 2019
7 a.m. " 8:45 a.m.: Public Viewing
9 a.m.: Auction begins
April 28, 2019
10 a.m. " 11:45 a.m.: Public Viewing
Noon: Auction begins
Every year, as many as 3,000 bicycles are reported stolen in Winnipeg. The City recovers around 1,000 bicycles annually and unclaimed ones may end up going to auction.
That is why it is important for residents to consider registering their bicycles.
"We encourage everyone that has a bike to write down their serial number when they're getting it ready for the season and to register it with us," said Marcia Fifer, Business Licensing Coordinator with Community By-law Enforcement Services.
The one-time process ensures if your bike is ever lost or stolen and is found, the City can notify you and arrange to have it returned instead of possibly being auctioned off.
All of the bikes purchased at the auction will be pre-registered in the City's registry. The registration fee of $6.70 will be added to the purchase price of the bike (children's bikes not included).
The UpCycle employment training program at Winnipeg Repair Education and Cycling Hub (WRENCH) have also tune up 250 of the bikes.
The bicycles are final sale and sold as is. No warranty is given nor implied. Cash, debit, MasterCard, Visa, and American Express will be accepted at the auction.
If your bicycle is stolen, make sure to file a report with the Winnipeg Police Service as soon as possible and also contact the Bicycle Recovery Section at 311.