City Hall meetings go remote
Massive undertaking involved in historic first
April 22, 2020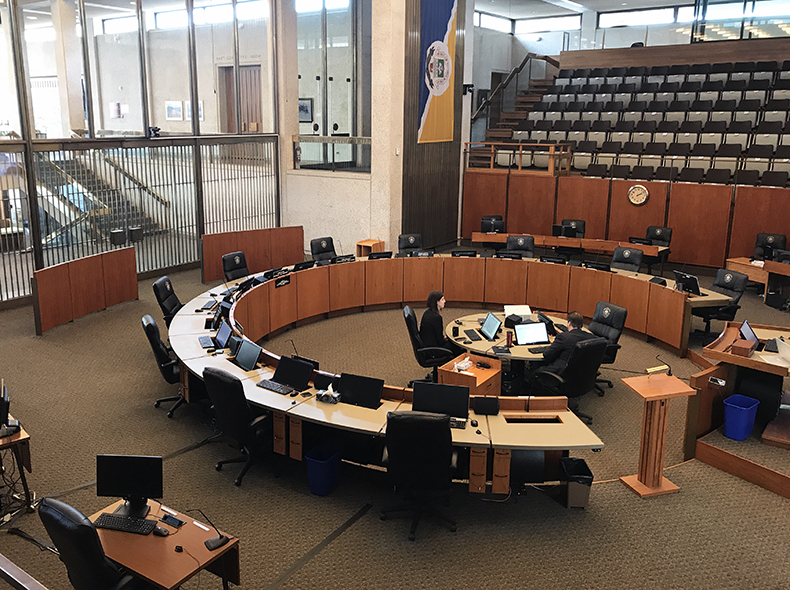 Since meeting for the first time 146 years ago, there is another historic first for Winnipeg's City Council. Committee and Council meetings at City Hall have moved into virtual realm amid the COVID‑19 pandemic.
Regular Council and Committee meetings at City Hall were briefly halted in an effort to help stop the spread of the deadly virus.  Determined to continue the important work being done, Councillors and the Public Service found way to hold the meetings remotely.
"We will continue to have meetings, however we are moving Council and Committee meetings into the Council Chamber and allowing Elected Officials and the Public Service to attend meetings remotely, either from their homes or offices," said Marc Lemoine, City Clerk. 
Lemoine said educing in person participants ensures the social distancing requirement of being two metres apart is followed for those in the Council Chamber.
The Standing Policy Committee on Property and Development, Heritage and Downtown Development was the first meeting to be held on the new platform on April 20, 2020.
A significant amount of work went on behind the scenes to ensure the system was successful.
"Our audio-visual crew, City Clerk's Department staff and experts from our Innovation, Transformation and Technology Department worked tirelessly to find a stable and secure solution to allow elected officials to participate remotely or from the Council Chamber," said Lemoine.
He said it was critical that meetings continue to be accessible for the public. All meetings are livestreamed on the City's YouTube channel as they normally would be. 
A schedule of upcoming meetings along with links to the livestream feed for all meetings can be found on the City Clerk's webpage.