Heading to IG Field? We have several transportation options for football fans
June 9, 2022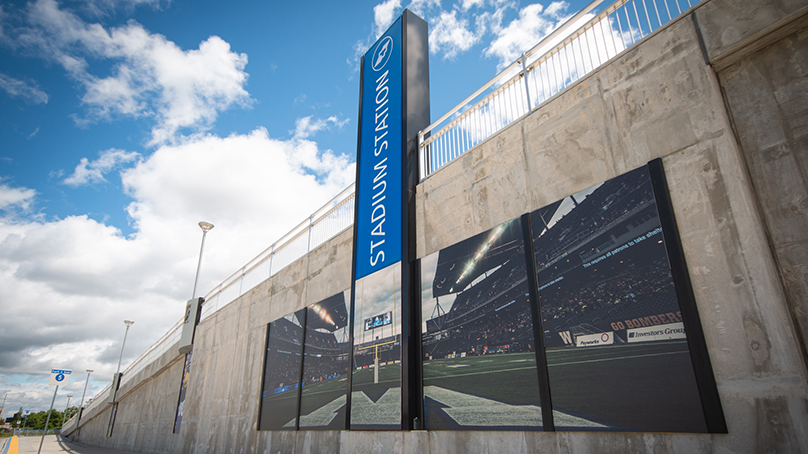 Are you heading down to IG Field to see the Winnipeg Blue Bombers defend their Grey Cup title? Make sure you plan ahead for how you'll get to the stadium.
The team is encouraging people arrive early and is offering its own parking and park and ride services, and we have a few other options you can consider.
Our Southwest Transitway, from Downtown to the neighbourhoods of Southwest Winnipeg, including the University of Manitoba and IG Field.
Two park-and-ride stations can be found along the BLUE rapid transit line with more than 1,000 on-site free parking spots. They can be found at the Clarence, and Seel stations.
All transit users are encouraged wear a mask while on our buses.
Make sure to download the new Winnipeg Transit app to easily check schedules and find the bus stop locations. It is also accessible through your internet browser.
Active transportation
If you'd rather cycle or walk to the stadium, there is the active transportation path running alongside the entire Southwest Transit that is a great option. You can also connect to it using any of the existing active transportation routes that intersect with the Transitway. It features bridges just for active transportation users over McGillivray Boulevard and Pembina Highway.
The route is also illuminated at night to enhance safety and visibility. Each station along the Southwest Transitway is also outfitted with bike lockers, which allows you easy transitions from bike to bus.
Once you get to IG Field, there is a Bike Valet outside of Gate 3 that is operated by the Winnipeg Football Club.
Driving
For people who prefer to drive to the game, it is important to keep in mind we are also in the middle of a busy road construction season. You are encouraged to download the Waze app and use it hands-free to help get to the game as efficiently as possible.
Waze will advise you know of lane closures and give you route options to minimize the impact of the road construction. Parking information is available on the Blue Bomber website.
Originally posted on July 30, 2021