Open Capital Projects Dashboard earns international award
The dashboard launched in 2018 to increase openness and transparency
June 10, 2019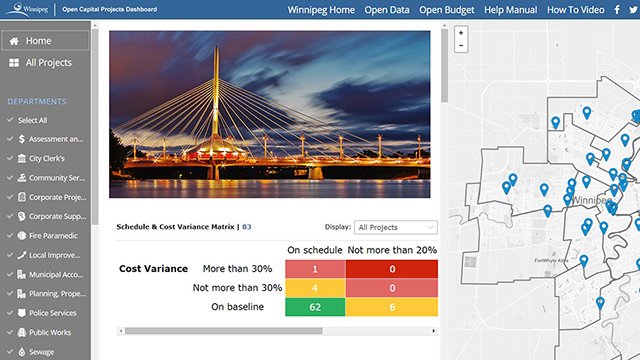 Using visuals including maps, colours, and charts, residents can easily find the status of capital projects with budgets of $5 million or more on the Open Capital Projects Dashboard.
In addition to increasing openness and transparency, the online tool was recently named the 2019 Winner for Exceptionally Well Implemented Government Finance Officers Association Best Practice.
"It involved several City departments including the Infrastructure Planning Office, Corporate Finance, Innovation, Transformation and Technology Services, as well as departmental asset managers and controllers," he said.
The dashboard launched in 2018 and helps residents learn more about how their tax dollars are being invested, along with its companion application Open Budget. Both are powered by the raw budget data in Open Data.
"This is truly an innovative tool," said Ruta. "It eliminates the complexity of analyzing a capital project's financial and non-financial information by displaying the information in a visually engaging and interactive way."
The Awards for Excellence in Government Finance recognize innovative programs and contributions to the practice of government finance that exemplify outstanding financial management.
This is the third award in less than a year from the Government Finance Officers Association. The City previously received the Canadian Award for Financial Reporting Award and the Distinguished Budget Presentation Award.
Based in Chicago, Illinois, the Government Finance Officers Association represents public finance officials throughout Canada and the United States. It has more than 20,000 members from all levels of government.