Crescent Drive Park's Forest Pavilion receives Canada's highest award for architecture
July 25, 2022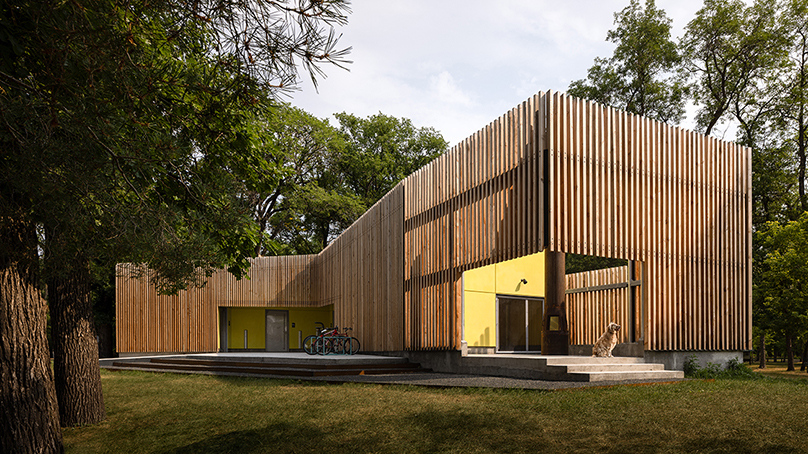 Since opening in 2021, the Crescent Drive Park's Forest Pavilion has become popular with people visiting the east Fort Garry site, and it recently caught the attention of the Governor General.
The pavilion was awarded the 2022 Governor General's Medal in Architecture, which honours exceptional buildings across Canada and celebrates outstanding project designs by Canadian architects. They are awarded biannually.
"A lot of thought and care went into this design and I am so proud of the project as well as the entire team behind it," said Jason Bell, Parks Project Manager.
The pavilion replaces the former picnic shelter from the 1960s while preserving nearby mature trees, park pathways, and views of the park.
As part of its assessment of the project, the awards jury highlighted its relation to the forest and its spatial continuity. They also said the pavilion is "a space that redraws the forest and its permeability and playful forms create a contemporary palisade."
Featuring bright chartreuse walls and perforated Douglas Fir slat siding, the building has four-season accessible washrooms, a covered picnic space, a weather protected warm-up room, a bright west patio, and even an enclosed fireplace plaza with a landmark 20' tall firepit chimney.
"We wanted to create a bright and cheerful hub that can be enjoyed by the community throughout the year," said Bell.
As Bell mentioned, it took a team to bring this design to reality. Public City Architecture Inc., Wolfrom Engineering, MCW Consultants Ltd., Marrbeck Construction, and Lindsay Reid Studio share this award with us.
In all, 12 buildings received the award and the pavilion was the only one from Manitoba to be given the honour this year.