City of Winnipeg recognized for its ongoing support of Reservists
January 23, 2019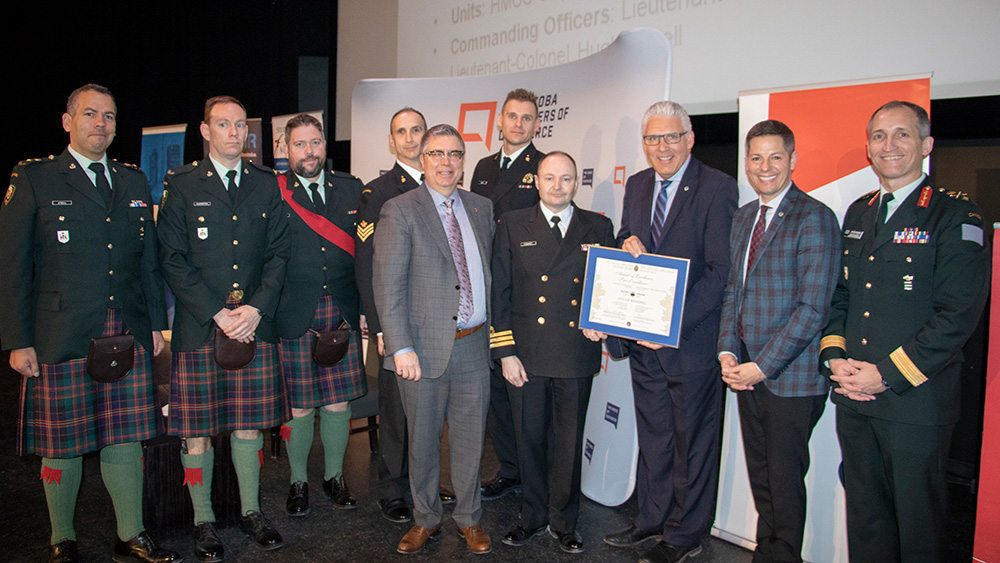 When Dwayne Huot volunteered to serve in Afghanistan in 2009, he didn't have to worry about taking time off work. He knew his employer, the City of Winnipeg, would understand.
"The City has been incredible throughout the years and the Chief was very supportive," recalled Huot. "The tour was a six month commitment, but with the three months of pre-training, administration, and pre and post leaves, it totaled nearly a year."
Huot is a Fire Training Officer with the Winnipeg Fire Paramedic Service (WFPS). For more than 30 years, he has also served in the Canadian Armed Forces Reserves, most recently as a Port Inspection Diver.
Huot is one of several Reservist employees from both the Naval Reserves of the Royal Canadian Navy and the Queen's Own Cameron Highlanders within 38 Canadian Brigade Group who nominated the City of Winnipeg for the Best Practices in Employer Support for a Government Organization for Manitoba award. The recognition is given by the Canadian Forces Liaison Council.
"The City of Winnipeg is honoured to have been accorded this Canadian Forces Liaison Council Employer Support Award and we are incredibly proud of the Reservists in the ranks of the Winnipeg Public Service," said Doug McNeil, Chief Administrative Officer.
It is difficult to know exactly how many Reservists are within the City's workforce because they do not have to self-identify. Recent figures show approximately 30 employees are active Reservists. They are in a wide range of City departments including Winnipeg Transit, Winnipeg Police Service, Winnipeg Fire Paramedic Service, and within City administration.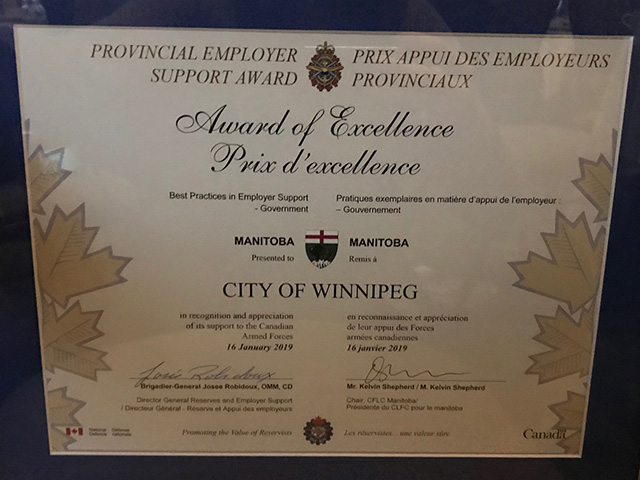 Colin Stewart is the Corporate Performance Measurement Coordinator at the City as well as the Commanding Officer of HMCS Chippawa. He said even on short notice, the City of Winnipeg is flexible when it comes giving Reservists the requested time away.
"For my junior sailors it is very important for them," he said. "They are at the point in their career where there is more training required and they are more available for deployments and operations. The City is supportive and allows them to make adjustments, whether adjusting work schedules, taking extra time off or first call on vacation time to go on courses."
He said even at the junior level, military members receive leadership training and gain crisis management skills and a strong work ethic " traits that are valued within the City of Winnipeg.
"The Canadian Armed Forces Reserves forge incomparable leadership and team effectiveness skills in their members, which benefit our Public Service immensely," said McNeil.
The City of Winnipeg also offers a Furlough Leave program that allows Reservists to buy days off without pay and spread the cost of the leave to the employee over several weeks.
"It is so important for me to spend time with my family and having the chance to access the City's Furlough Leave program allows me to mitigate the financial impact of taking unpaid leave for reservists," said John Dawson, the City's Acting Manager of Labour Relations and Total Compensation as well as a Reservist with the Queen's Own Cameron Highlanders. "I am able to fulfill my military duties and I don't have to use my vacation leave to do it. The result is the ability to spend almost all of my vacation with my family."
The City of Winnipeg has also been nominated by the Canadian Forces Liaison Council for a national award as Manitoba's Most Supportive Employer of Reservists for 2018.