Please limit Winnipeg Transit to essential trips only
November 24, 2020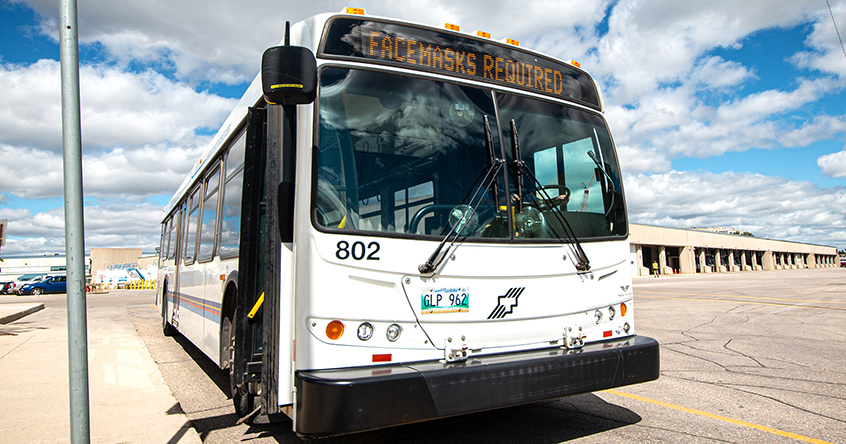 As COVID-19 continues to grip Winnipeg, residents are being asked to only use Winnipeg Transit for essential trips, such as getting to work or going grocery shopping.
"We all need to make sure we are only leaving our homes when it is absolutely necessary," said Jason Shaw, Manager of the City's Emergency Operations Centre. "Please do not take Winnipeg Transit if you are sick and to not use transit if you are going for a COVID test."
Shaw said that if residents rely on Winnipeg Transit as their primary mode of transportation, but require a COVID test, they can contact Health Links to help arrange transportation.
As of mid-November, ridership is 41 percent of what would be considered normal for this time of year.
Transit ridership is continuously monitored using a variety of tools, including Automatic Passenger Counters, Inspector observations, and reports from Operators. While Winnipeg Transit isn't always able to predict where spare buses may be needed, they are dispatched along routes reporting higher passenger loads when possible.
"We want Winnipeg Transit riders know we are committed to the health and safety of passenger," said Shaw.
In response to COVID-19, all passengers and employees are required to wear a face mask. Shaw noted mask use compliance is approximately 97 percent.
An enhanced cleaning program is in place which sees all buses treated with hospital grade sanitizer at least once every 48 hours, using electrostatic sprayers aimed primarily at high-touch point areas.
Other safety measures include the exclusive use of buses equipped with operator shields and mandating they be fully deployed, as well as displaying reminders to follow physical distancing are displayed on bus exteriors and in interior advertising.